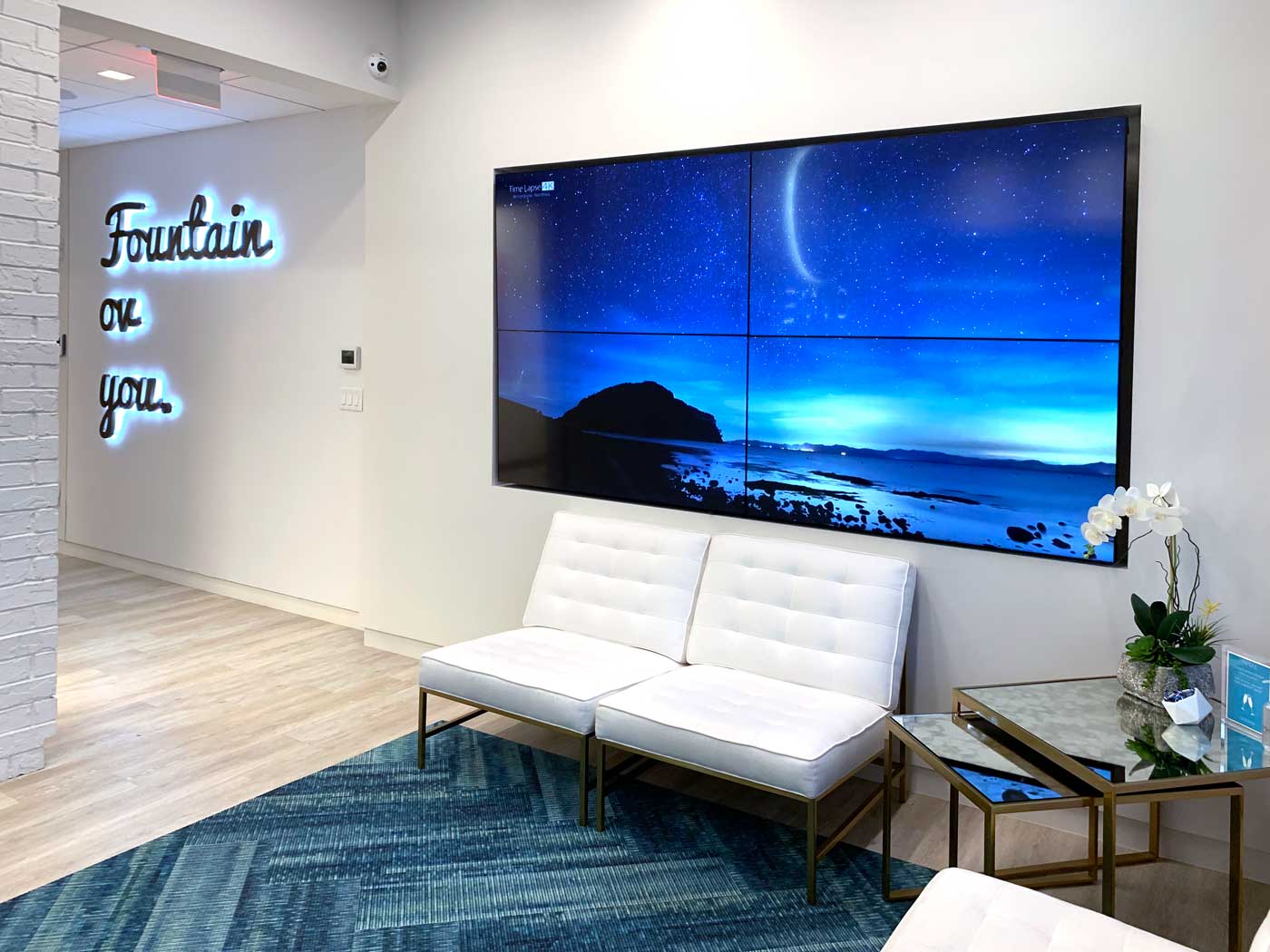 Add effective onsite marketing with digital signage at your business!
Video wall installations by PAV allow businesses to capture the attention of their guests with the wow factor that is unique to digital signage.
A video wall turns any space into a high-impact marketing showroom, allowing you to create an engaging WOW factor presentation for your clients and guests. Digital signage is used by exclusive brands to foster and build their image. You can take advantage of these same marketing opportunities with easy-to-use digital signage solutions from Performance Audio & Video. When your clients are in your space capture their attention for your upcoming events and highlight your successes. Direct marketing allows you to connect directly with your clients avoiding the internet noise of easily overlooked internet posts and email blasts.
PAV offers video wall solutions from LG and Samsung paired with digital signage players from Brightsign or Optisign. Digital signage players provide you with easy-to-implement solutions for bringing content to life on your video wall.




Control the look and feel of any space with custom content allowing you to set the mood.
BrightSign offers creatives the flexibility to provide custom content. All BrightSign models produce the absolute highest standard of reliability, affordability, and ease of use. Designed for marketing firms and/or your internal marketing staff to update content remotely BrightSign players can display pictures, 4K video, and HTML-based content. BrightSign's LS and HD product lines deliver the features and capabilities of PC-based solutions at a very affordable price point. Bright Sign also can be used to create a touch-based kiosk for facility maps, trade show booths providing you with unlimited options. The BrightSign product line offers a range of models packaged with features and connectivity options for specific applications.
No Marketing Department? No problem!
Performance AV makes digital signage made easy.
OptiSigns provides you with an easy-to-use web portal to create and update your video wall presentation. From easy-to-use restaurant menu boards to corporate lobby welcome signs, OptiSigns has you covered with hundreds of available templates making you look like a marketing pro.
Digital signage is not limited to video walls and PAV can provide you with the right mix of technology to create the high-impact space that you are looking for. Call us today to find out how we can transform any space with the right technology to engage and entertain your clients and guests.
Thank you for taking the time to learn more about Performance Audio and Video and the brands and services that we offer. At PAV, we are committed to combining Technology, Vision, and Experience to enhance and simplify Clients' lives. If you are interested in learning more about our unique approach, please contact us today.