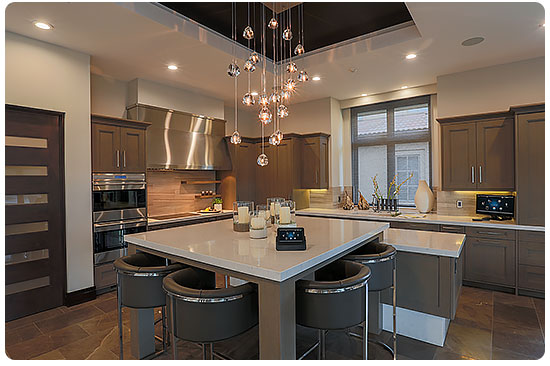 Welcome to Control4® automation, a smart automation solution for homes that makes it easy for you to intelligently control every aspect of your home—from TVs to thermostats,door locks to drapes—no matter where you are, using one simple-to-use interface. Control4® solutions make your life more comfortable, more efficient, and more secure. Best of all, Control4® technology gives you the power to personalize your home or business with the home automation system of your dreams—all within your budget.
Control4 offers the ultimate smart home automation solution by making the electronic components and systems you already use on a daily basis work together, seamlessly. By integrating everything from lighting, music, video, climate control, security—even smartphones and tablets—Control4 creates personalized experiences that enhance your life and work with added comfort, savings, convenience and peace of mind.
Customize Your Home Automation System
No matter the size of your home, whether you're automating a single room or a sprawling mansion, Control4 controllers are capable of powering your entire home automation system. The award-winning HC-800 Controller has the horsepower necessary to run even the most demanding systems, from multiple rooms to an entire house. The popular HC-250 Controller is great for smaller or single-room systems, and can also act as an ideal universal remote alternative for every television in your home.
Automation = Convenience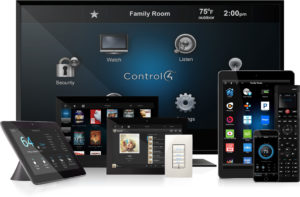 Imagine. One touch on your tablet and the movie starts, your shades close and the surround sound
kicks in at the perfect volume. When the sun goes down, your porch light turns on. And the whole
house locks at 11 p.m. Automatically.
You rush out with the kids to drop them off at school. By the time you get to the office you wonder,
Control4 on you Devices"Did I close the garage door?" Simply check from your smartphone and relax.
Imagine living in a home that obeys your every command…where virtually every device and system
can be controlled remotely and fully automated. You can use your tablet to control your home
theater, dim the lights, lock the doors, turn up the heat, and arm the alarm. Or your smartphone to
do the same from not just anywhere in your house—but from anywhere in the world.