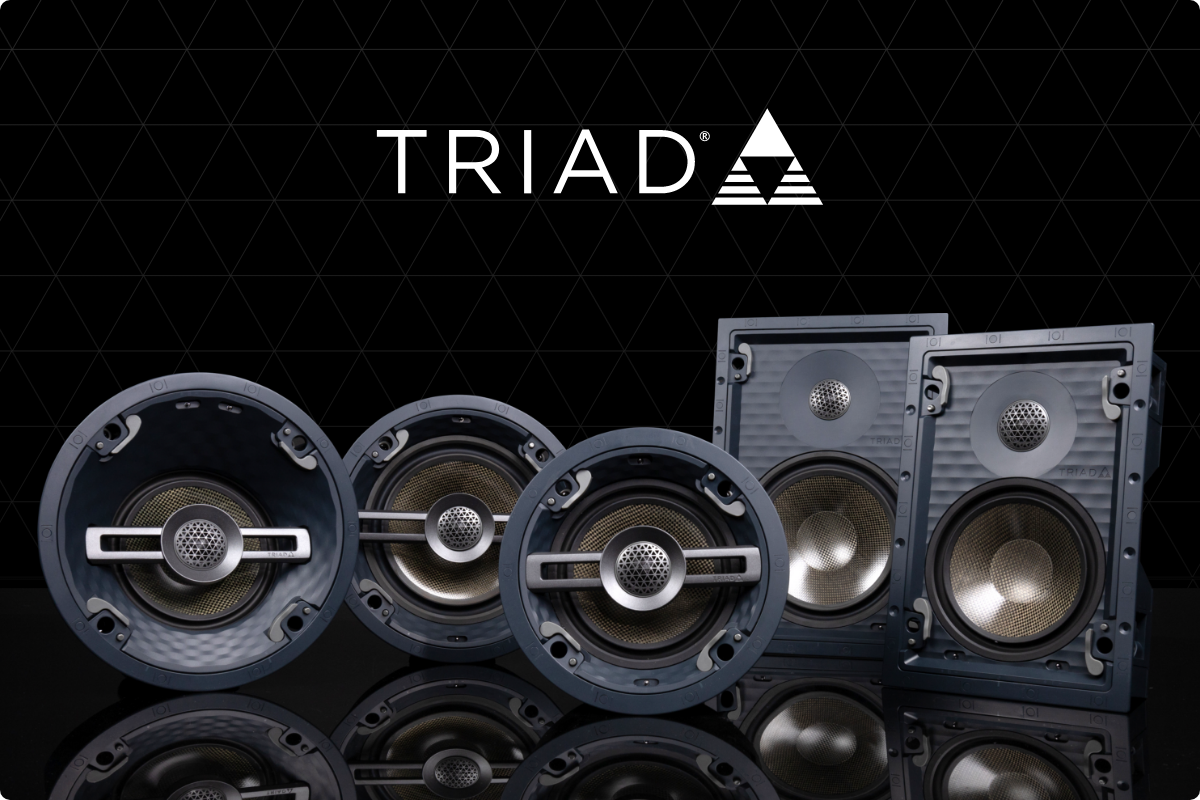 Triad Speakers are More Than Just Sound… They are Products that Enhance Your Life.

In a world of cookie-cutter products, Triad is the sole in-house company designing and manufacturing a comprehensive line of high-end architectural loudspeakers. Triad doesn't look at products as commodities, but rather as individual unique solutions to the problem of seamlessly integrating high-quality sound into a sophisticated living environment.
Triad believes you shouldn't have to settle for a generic "good enough" custom speaker when there is an innovative Triad product that is perfect for virtually any application.  Every Triad speaker is designed and built for you to elegantly, often invisibly, bring the ultimate acoustic experience to all the spaces in your life. In-wall and in-ceiling speakers create studio-quality sound, blending discretely into your interior design.
Freestanding and bookshelf speakers are built to your exact specifications, including perfectly matched colors or wood surfaces, to enhance your décor. Triad TV sound bars don't simply deliver unprecedented sound quality they look amazing and fit perfectly to blend in with your décor.
Building the World's Finest Custom Speakers for More Than 30 years
Triad is the world's first manufacturer to build fully custom speakers to satisfy the most discerning audiophiles and interior designers alike. With three decades of innovation and refinement, our speakers represent the pinnacle of acoustic excellence and bespoke quality, individually tailored to each installation.
More Reasons to Choose Triad
Triad offers exemplary factory support and is sold only through the best custom installation dealers and respected CEDIA members like Performance Audio & Video.  Working with Professionals like PAV allows Triad to ensure that Speaker Systems are designed properly to provide the most accurate audio reproduction possible to bring your Movies and Music to life.
Audio Products for Every Need
Triad offers an array of products ranging from Architectural In-Ceiling Speakers to Floor-Standing Speakers and Bookshelf Speakers and their well-known Custom Speaker Bars. Triad has products specifically designed for every space in your home providing you with high-performance options throughout your home.
Luxurious Architectural Speakers
Triad PDX architectural speakers provide luxurious audio while practically disappearing into your walls or ceiling and can be custom painted to match your space. Engineered in Portland, Oregon from high-performance materials like Kevlar and carbon fiber, they're the perfect fit for your home cinema or media room, providing an exceptional experience for watching movies, gaming or listening to music.
Dolby® Atmos® Surround Sound
Dolby® Atmos® is a dramatic new multidimensional object-oriented sound technology that redefines the audiovisual experience. Working directly with Dolby® Labs, Triad has created a radical new line of recessed and freestanding speakers capable of moving the sounds of individual objects all around you, even overhead.
Don't settle for the ordinary. Discover Triad and experience sound and beauty you will love every day.
Thank you for taking the time to learn more about Performance Audio and Video and the brands and services that we offer. At PAV, we are committed to combining Technology, Vision, and Experience to enhance and simplify Clients' lives. If you are interested in learning more about our unique approach, please contact us today.