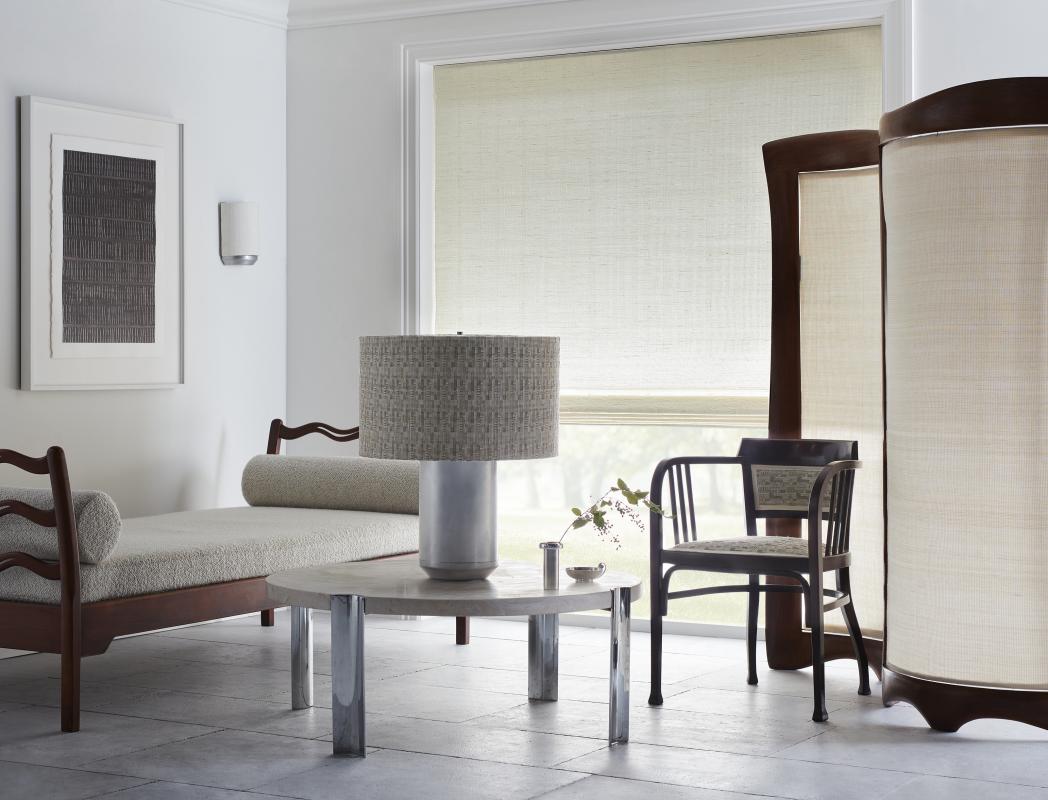 Hartmann & Forbes are sustainable handwoven shades made from premium natural fibers. You are no longer limited to the "stock" fabrics available from Lutron for your motorized shades. Fabrics from Hartmann & Forbes elevate the styles available for your motorized shades with unique designer collections which are created to make a statement. They work with local farmers to select the finest rapidly renewable materials, using strict measures for color, texture, and durability. Each shade, drapery, and top treatment is carefully crafted to the designer's precise requirements.
Hartmann & Forbes offer two distinct weaving methods to accommodate a broad range of styles.
Woven-to-Size (WTS)
The Woven-to-size method is a true made-to-order weaving and crafting process. The natural fibers are handwoven to precise window dimensions. This method uses a loom-finished edge – a meticulous technique of looping weft fibers at each edge, then shuttling them back through the loom to create a continuous warp-edge finish. Woven-to-Size does have longer lead times but the final result is a beautiful shade with edge detail and wide seamless widths.
Tailored-to-Size (TTS)
This method is a weave-and-stock process. Once an order is received, Hartmann & Forbes craftsmen measure and precisely trim and tailor each shade material to size. The edges are meticulously stitched when necessary for a finished-edge appearance. This method may have size limitations due to roll widths because the TTS materials are pre-woven and in stock, the benefit of the Tailored-to-Size program is that it offers a shorter lead time and lower price points than WTS.
Max Humphrey
Recognized as a design change-maker and known for his trademark lived-in layered look, Humphrey's collection celebrates modern Americana with a nod to nostalgia and a fresh take on classic prints and patterns —gingham, quilt, and cable knit—rendered in Hartmann&Forbes' handwoven natural textiles.
Amy Meier
Renowned for an aesthetic that seamlessly blends tradition and innovation, Meier's collection deftly fuses inspiration from Japanese design, the Bauhaus School, and traditional Korean cloth, using the naturally beautiful Hartmann&Forbes handwoven textiles to express the organic yet highly structured design.
H&F Studio Collections
Woven-To-Size Grassweave
A natural, modern mix of refined to rustic textures, hand-loomed with artisanal technique to exquisite detail. Crafted of sustainable blends of grass fibers, including banana stem, ramie, arrowroot, river reed, jute, abaca, vetiver, palm, water hyacinth, walingi, and bamboo. Offered in seamless widths up to 180."
Woven-To-Size Papyrusweave
An unassuming, refined elegance defines this modern collection of hand-loomed wood-pulp fibers. Designed in textural patterns with soft tonal hues, inviting a serene and tranquil mood to interiors. Offered in seamless widths up to 150."
Soft Natural Fabric
A fresh version of textural classics, the natural fabric collection offers hints of the exotic, while remaining grounded in the modern movement. Loomed in some of the world's oldest and most revered textile mills, fibers are carefully spun and dyed to a rich and earthy color palette. Offered in seamless widths up to 114." Many of Hartmann & Forbes linens carry the Masters of Linen mark, which guarantees excellence and 100% European traceability at each stage of processing.
We offer samples to determine which shade is perfect for your home.
Thank you for taking the time to learn more about Performance Audio and Video and the brands and services that we offer. At PAV, we are committed to combining Technology, Vision, and Experience to enhance and simplify Clients' lives. If you are interested in learning more about our unique approach, please contact us today.