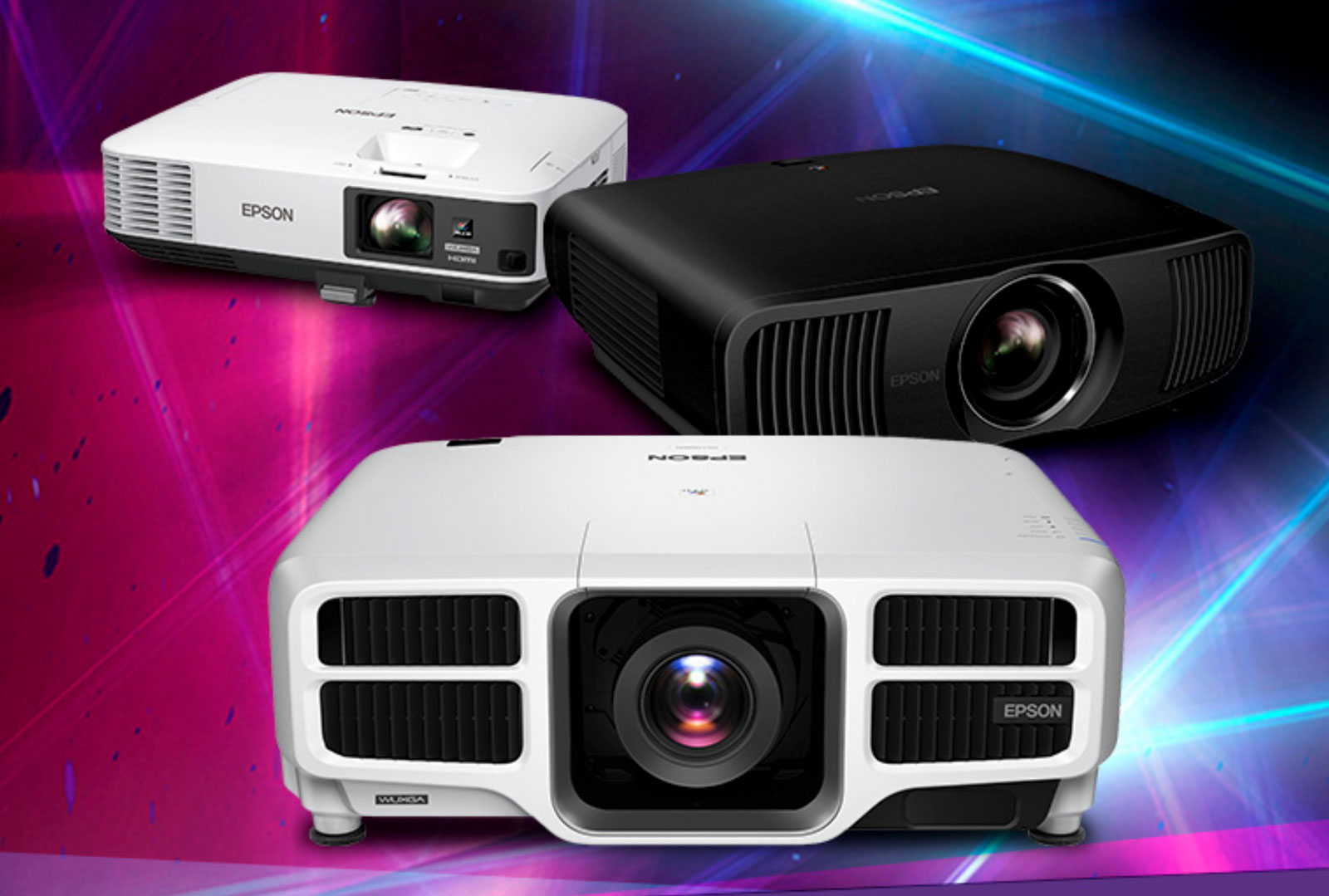 Epson professional-grade projectors are #1.

Epson is the #1-selling projector manufacturer worldwide and whatever your venue or application, Epson offers a projector made to meet your needs. Epson projectors deliver more light and more vivid images with extreme reliability and uncompromising warranty and support. Laser projection models feature 20,000-hour bulb life with a true 3-chip 3LCD engine technology with one LCD chip for each color (RGB) creating images that are not only brighter but they are brighter in all 3 colors.
Performance Audio & Video offers an array of Epson projector solutions for commercial spaces. We specialize in three key areas bringing the power of Epson to you for 1 – large venues, 2 – conference and meeting rooms, and 3– interactive touch collaborative environments.
1 – Epson Large Venue Projectors:
Whatever your venue size or application, Epson offers a projector made to meet your needs. Epson offers a full suite of high-performance projectors designed for virtually any large-venue application each with innovative advanced 3-chip projection technology, interchangeable lenses, extraordinary image quality, and incredible brightness.
One of Performance Audio & Video's favorite examples from the Large Venue Lineup is the Epson EB-PU1006W which offers larger-than-life images from a sleek, powerful projector that is the most compact within Epson's Pro Series. The Epson EB-PU1006W is compatible with a wide range of optional powered lenses, including a zero offset, .35 ultra short-throw lens to suit any application. The Epson EB-PU1006W delivers the best-in-class color brightness, with 6,000 lumens of color brightness and 6,000 lumens of white brightness, this 3-chip, 3LCD projector features a virtually maintenance-free 20,000-hour laser light source and extended life air filter. The Epson EB-PU1006W has Full HD WUXGA resolution and 4K Enhancement Technology (1920 x 1200 x 2) meaning you get crystal-clear, lifelike images. Want more the Epson EB-PU1006W is also compatible with Epson's optional external camera allows enabling enhanced features such as screen matching, tiling for edge blends, and projector stacking.
2 – Epson Conference and Meeting Room Projectors:
Bring greater clarity and collaboration to your business with Epson projectors, designed to fit your budget while supporting today's workplace needs, including wireless mobility and a low cost of ownership. Epson offers an array of models to suit any boardroom or meeting room even those with large windows or high ambient light.
Performance Audio & Video installs a variety of Epson Meeting Room Projectors but one of our favorites is the Epson PowerLite L520W Laser Projector. With the Epson PowerLite L520 in your meeting space, you can share bright, easy-to-read content in even the brightest of rooms. The L520W is a long-throw laser projector that offers an incredible 5,200 lumens of brightness and delivers large, colorful, widescreen images using advanced 3LCD technology that can full up to 280″ screens. The Epson PowerLite L520W features a virtually maintenance-free 20,000-hour laser light source, and an extremely versatile projector and it provides an array of features for engaging, impactful presentations, including the split-screen capability for side-by-side viewing and easy wireless sharing from laptops and smart devices.
3 – Epson Interactive Touch Projectors:
Epson BrightLink displays transform meeting spaces into immersive collaborative environments where productivity is enhanced, creativity is on display, and participants are fully engaged. With images up to 120˝, these flexible displays can easily make a dry-erase board, plain wall or table an interactive display.
Performance Audio & Video has been installing Epson BrightLink displays since their introduction and we have a wealth of knowledge to help you select the best solution for your collaborative meeting space. Our favorite from the current lineup is the Epson BrightLink 1485Fi Interactive Laser Display which offers several enhancements to the award-winning BrightLink platform.
Epson BrightLink 1485Fi 1080p 3LCD Interactive Laser Display
The Epson BrightLink 1485Fi is a reliable, ultra-bright interactive display that provides easy-to-read on-screen images and it can transform any space into an engaging and collaborative environment. Designed for collaboration, the 1485Fi supports PC-free whiteboarding, printing, and emailing and it easily hosts other network-connected BrightLink projectors, allowing up to eight users to work on a single interactive canvas from multiple locations.
The 1485Fi is flexible and can support multiple image sizes and formats. The Epson BrightLink 1485Fi can display up to 100″ images in 16:9 format and up to 120″ images in super-wide 16:6 format offering up to 95% more interactive space vs. a 75″ flat panel. The Epson BrightLink 1485Fi is ultra-bright with 5,000 lumens of color and white brightness and a virtually maintenance-free 20,000-hour laser light source with no lamps providing you with a low long-term cost of ownership.
Thank you for taking the time to learn more about Performance Audio and Video and the brands and services that we offer. At PAV, we are committed to combining Technology, Vision, and Experience to enhance and simplify Clients' lives. If you are interested in learning more about our unique approach, please contact us today.