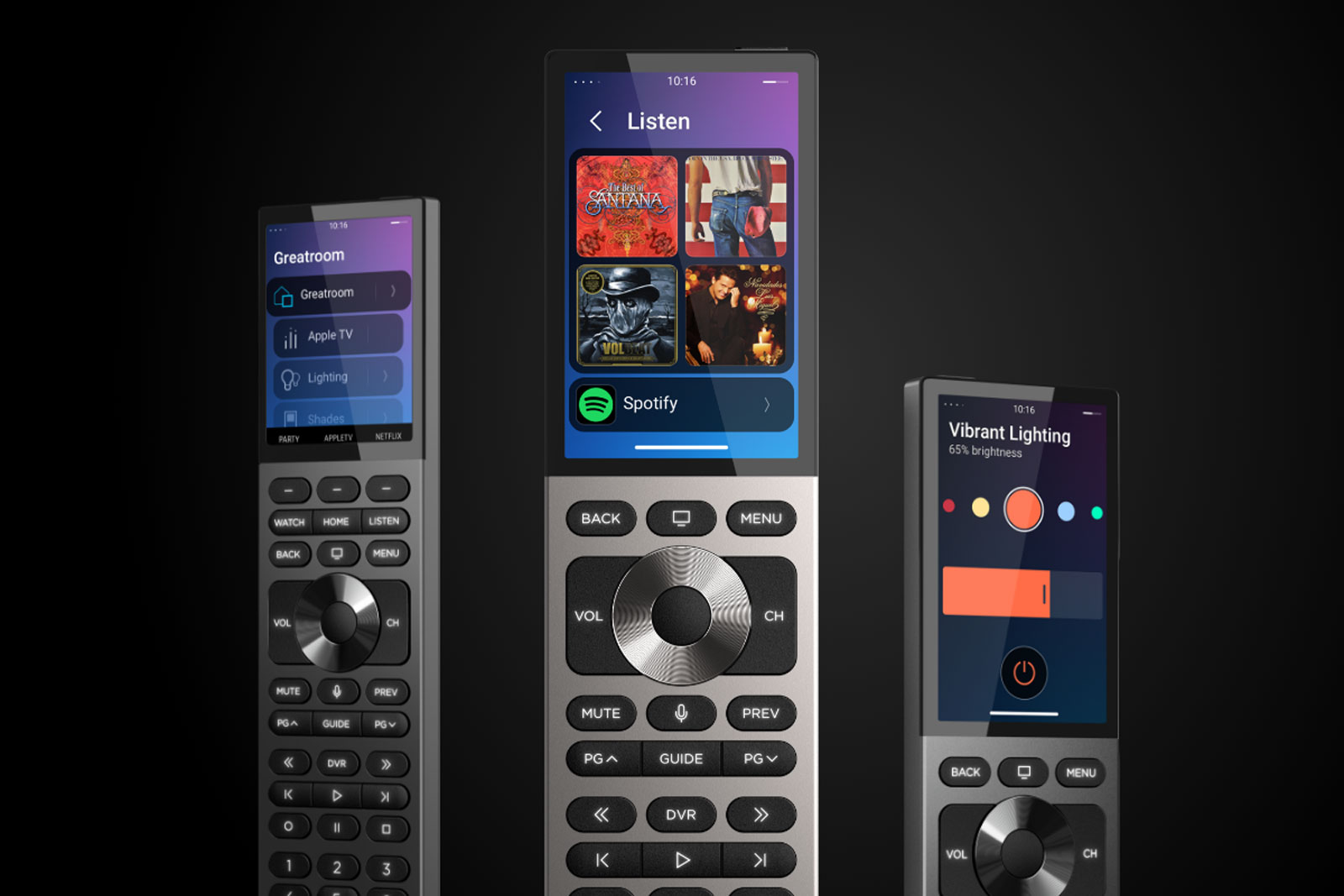 Meet the New Control4 HALO Remotes
The Halo, the Halo Touch, and the Control4 SR-260 remotes are the perfect hand-held interfaces for the whole home. Controls audio and video equipment, along with lights, music, temperature, shades, and more. These beautiful remotes feel good in the hand, have an intuitive button layout perfect for one-handed operation, and are highly customizable.
Halo technology improves the smart universal remote experience. Built off of the foundation laid by previous generations, the new Halo Family includes important feedback-driven features like an innovative Voice button, a full suite of backlit buttons and a 5 times stronger wireless connection.
Packed With Features:
Control4 Halo remotes include updates for the Watch, Listen, and Lights experiences all packaged in an elegant form that elevates any space perfect for tech lovers to the casual user.
User Experience Reimagined
Simply put, the Halo family is a generational leap to a user experience that transcends the rest.
• New Voice button dynamically functions as a Siri Remote for Apple TV or Xfinity Voice Remote
• Ultra-low power use for extended battery life
• Full complement of backlit buttons for easy and intuitive single-handed use in the dark
• WiFi Strength increased 3-5x over Neeo and supports both 2.4GHz and 5GHz bands
Halo is Coming In Q1 2023
Halo is designed for the channel surfer and includes a beautiful 2.8" color interface controlled with a full complement of backlit buttons.
Full color 2.8″ non-touch LCD screen provides a graphical display of devices, media, favorites, automation, and menu options that are selected from, and controlled by the complete set of backlit buttons below
Three hard custom buttons with digital labels for easy identification
The color Shortcut button accesses the red, green, blue, and yellow functionality of media devices
Halo Touch is Coming In Q1 2023
Halo Touch includes a large 3.2" touch interface, a beautiful aluminum body, and the most frequently used backlit buttons to deliver a premium remote control that elevates the smart living experience and the aesthetic of any space.
Available in Black or Silver, the brushed aluminum body brings a premium look and feel
Full color 3.2″ LCD screen provides a touch interface for the selection and control of devices, media, favorites, automations, and menu options
The redesigned user interface includes quick access to Favorites, and a lock screen (dismissed by swiping up) to avoid unintended button presses
A full set of the most important backlit buttons including the d-pad and all transport controls
When needed, soft numeric buttons can be accessed through the touch interface
Innovative Voice Control With A Dynamic Duo
No longer do your customers need to keep those old, manufacturer's voice remote controls laying around. Halo and Halo Touch feature a new dynamic Voice Button so your customers can control AppleTV and Xfinity devices with the power of their voice. When Apple TV is the selected source, push-to-talk for Siri. When watching Xfinity, push-to-talk for Xfinity Voice Remote.
Remote With A Personal Touch
The Halo family of remotes takes it to the next level with thoughtful additions that provide a premium experience for you and your customers. Custom hard buttons include digital labels so you don't have to remember. An innovative Color Shortcut Button provides streamlined access to the red, green, blue, and yellow (RGBY) buttons for AV devices, or can be programmed to execute personalized automated scenes. And never lose the remote again with the "find remote" function that can be accessed from a Control4 Touchscreen, the Control4 App, or a voice command.
OvrC Remote Support:
The Halo family is designed for remote support with at-a-glance troubleshooting information and integration with OvrC gives us access to battery-charging data and Wi-Fi connectivity statistics. Providing PAV with valuable insights on performance so that we can optimize your experience.
Let us know of your interest in the Halo remotes, and we will place you on a waiting list for early access.
Click Here
Thank you for taking the time to learn more about Performance Audio and Video and the brands and services that we offer. At PAV, we are committed to combining Technology, Vision, and Experience to enhance and simplify Clients' lives. If you are interested in learning more about our unique approach, please contact us today.