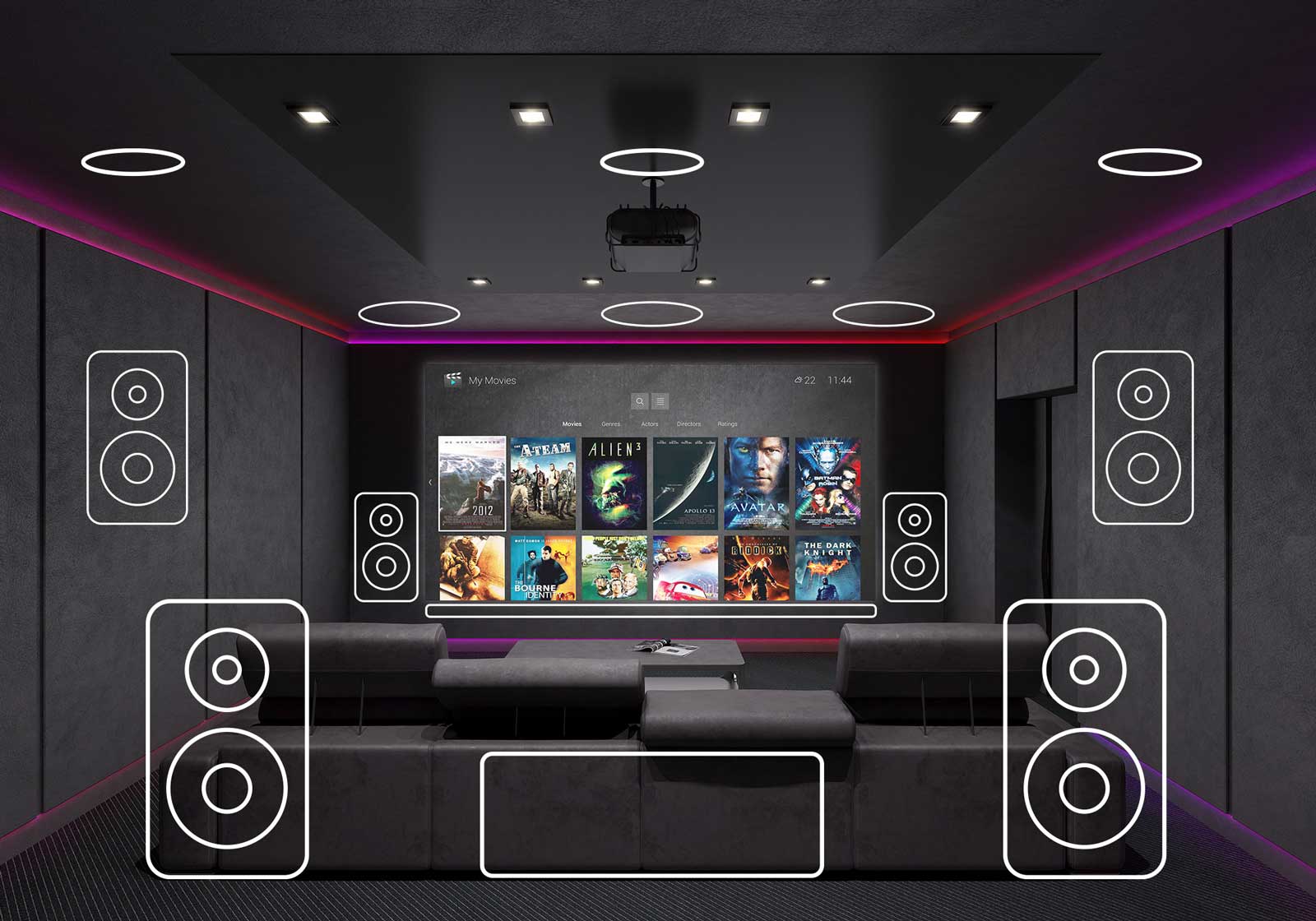 Dedicated Home Theaters are More Than just a Place to Watch a Movie.
A Dedicated Home Theater is designed to be a place of isolation allowing you to be drawn away from the outside world. Dedicated Theaters provide the perfect ambiance that leaves your family lost in the cine-magic, the go-to spot for friends to enjoy the big game or the next binge-worthy series, and a space you'll never want to leave because the viewing experience brings it all to life.
Equipment That Engages You
Home Theaters offer a completely Controlled Environment with lighting, temperature, and the all-important sound and video. Dedicated Home Theaters can be designed to meet a range of budgets while still enjoying the major benefits of a dedicated space. Performance Audio & Video's unique blend of technical savvy and our collaborative approach with clients, designers and architects will provide you with the best combination of aesthetics and technology for your Dedicated Home Theater.
It's All Under Control – Control4 that is….

A tap of the "Movie" button drops the screen, activates the projector, queues the sound, and dims the lights. Enjoy a more simplified viewing experience by replacing multiple remotes with just one that is sleek, sophisticated, and easy for the whole family to use. The true magic of a home theater is when everything comes together and with Control4 running in the background you can just sit back relax and enjoy the show.
Elevate the Experience with Dolby Atmos
Dolby Atmos introduces theater-grade speakers above you to make the experience even more realistic. The sound travels from all directions and captivates the most discerning sound enthusiast. It is the best residential sound application for home theaters that is available today.
Dolby Atmos has reinvented how entertainment is created and experienced, allowing creatives everywhere to place each sound exactly where they want it to go, for a more realistic and immersive audio experience. Whether you're gaming, watching your favorite movie or show, or listening to that new track on repeat, Dolby Atmos transports you into a spatial sound experience that draws you in deeper, so you hear more and feel more.
Dolby and Triad Speakers Offer a Distinct "Theater-Grade" Advantage!
Triad Audio worked directly with Dolby Labs to design Home Theater Speakers that deliver Dolby Atmos Surround Sound in incredible detail to bring movies to life. Triad's expert designers has designed thousands of Dolby Atmos systems for home theaters worldwide and Performance Audio & Video will work directly with the Triad Audio Design Team on a Custom Design for your Dedicated Home Theater to ensure you experience a world class movie experience.
Theater-grade in-ceiling speakers allow you to enjoy the same experience tonally from all angles in your viewing environment, no matter where you are sitting. Triad speakers are crafted the same for all types of applications—in-wall, in-ceiling, and in-room—so that they sound the same, wherever they are placed in the theater. Omnidirectional depth immerses you into the action and excites your senses. Listen to every footprint and breath like they're happening right beside you. Feel that bomber plane whirring overhead as if you're in the center of a war zone. Extraordinary clarity and detail captivates you with a dome of sound that engineers "steer" for the most significant impact.
PAV is working on a new project! Be on the lookout for an upcoming blog showcasing a Home Theater with Triad that is currently under construction.
Learn more about Ambient Environments by Performance AV
Click Here