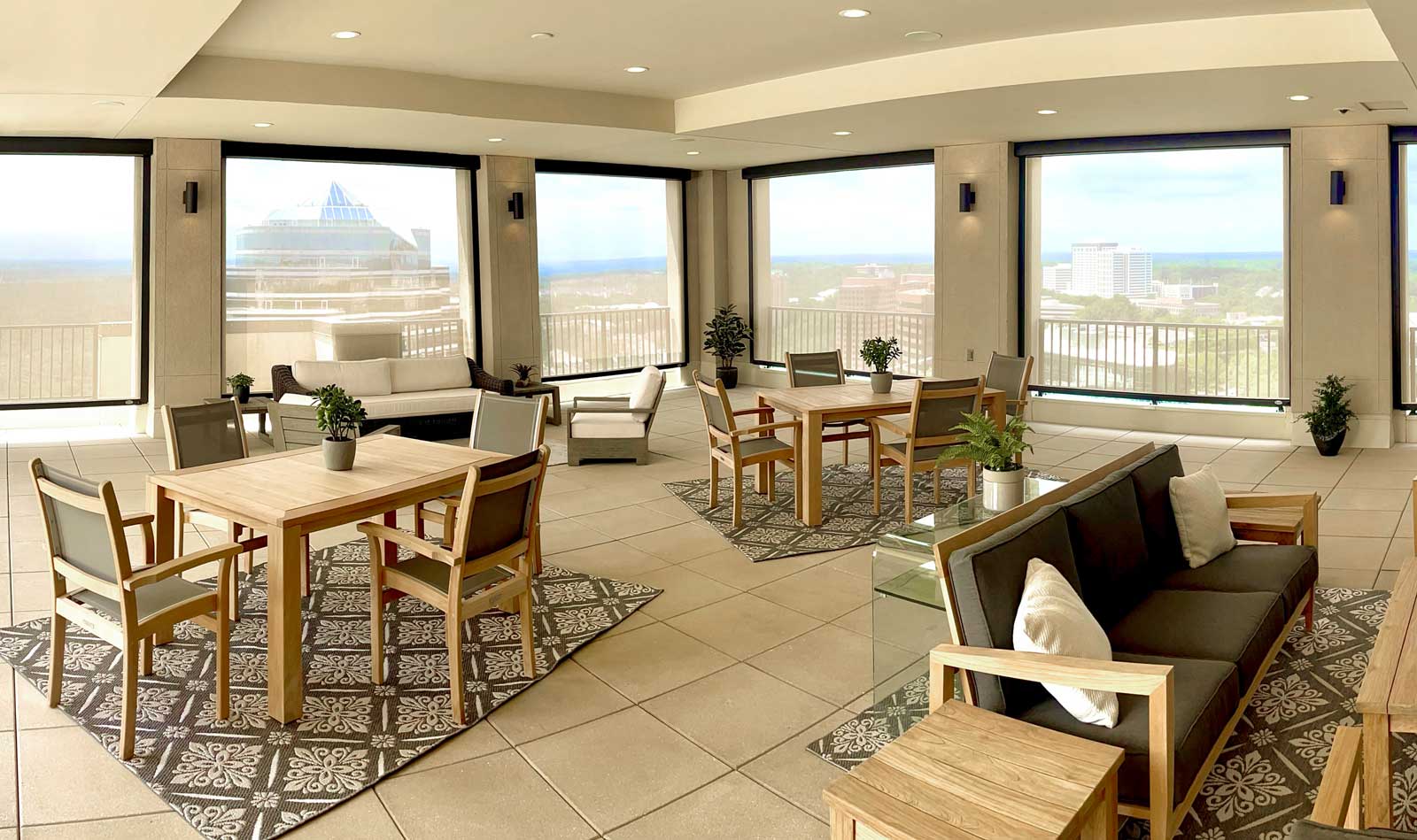 Performance AV was tasked with creating a more useable outdoor patio space for the homeowners of a high-rise penthouse with expansive views of Atlanta. Motorized window shades from Progressive Screens (installed by Performance AV)  promised the perfect solution that could withstand the wind and direct sun that the patio is exposed to year-round (many stories up). The screens provided ease of use, quality, and beauty.
Blocking the Sun, Not the View
Progressive Screens Textilene 90 fabric in Desert Sand was chosen to block 90% of UV rays from the sun and 90% of the wind while blocking 0% of the view. The impressive performance of Progressive Screens' patented MagnaTrack System provides the usability and reliability to withstand constant high winds and blowing rain allowing the homeowners to enjoy their patio in all weather conditions. Progressive Screens won't block your beautiful view, only the heat, and wind.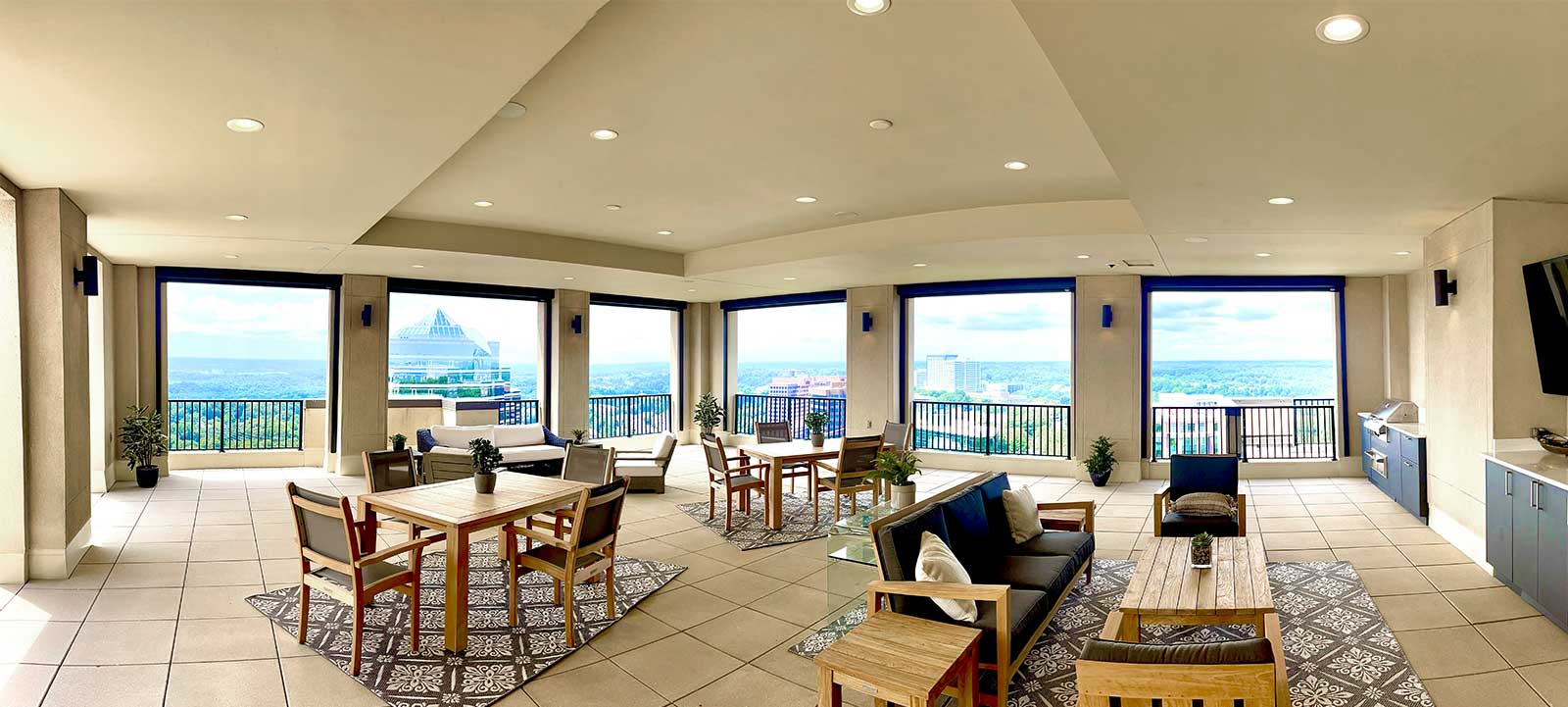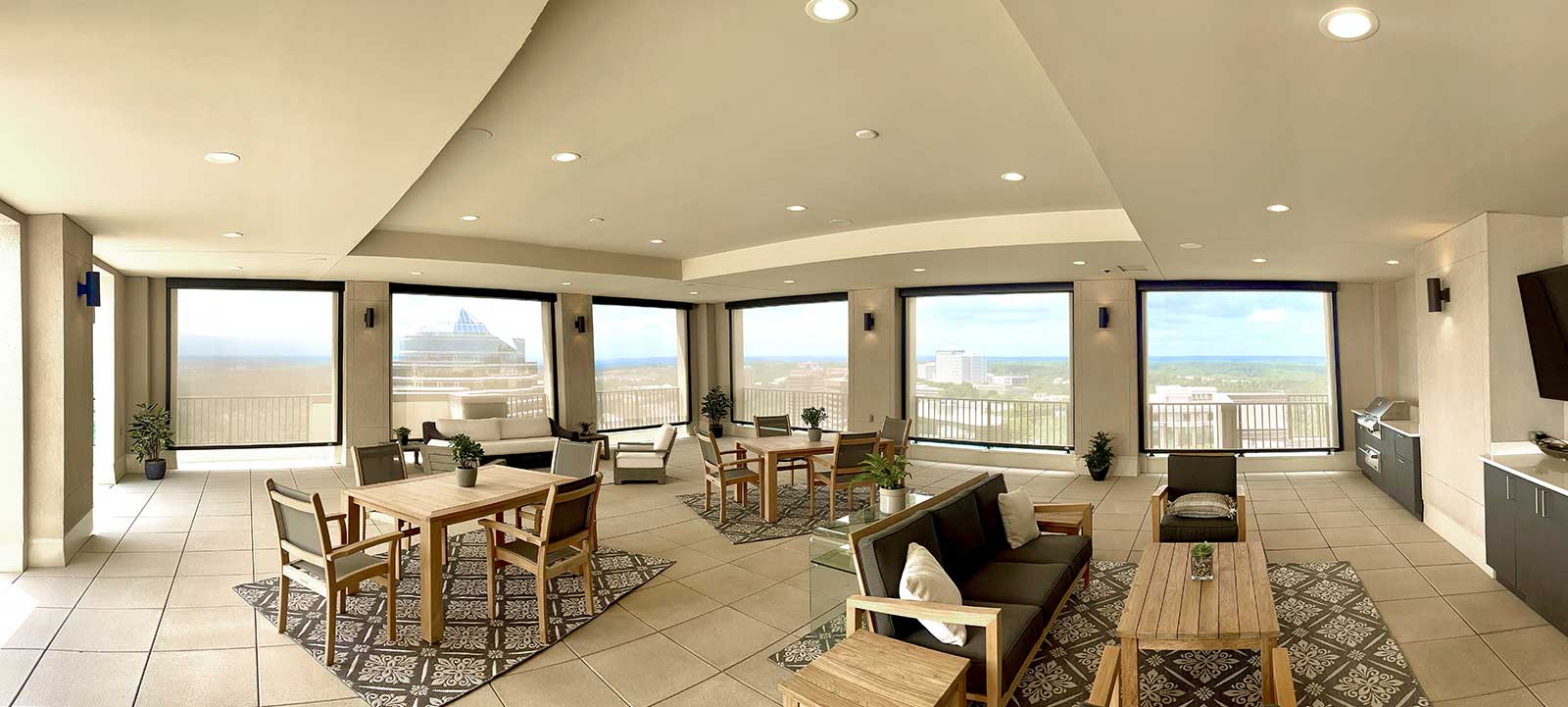 Remote Control of Your Motorized Screens
The Progressive Screens chosen for the Atlanta high-rise application can be activated together or independently using the Gaposa Handheld Remote. They can also be controlled using the homeowners' Control4 System providing the homeowners multiple ways to enjoy their re-imagined outdoor space. Integratable with smart home systems and also controllable from your cell or tablet.
This flexibility of independently managing each screen allows them to block wind and sun in different zones, and in varying degrees…while maintaining an open view of the Atlanta skyline.
MagnaTrack System for Hassle-Free Operation
Progressive's new patented MagnaTrack system outperforms any other zipper-style motorized screen. MagnaTrack is the only motorized screen that can provide completely hassle-free operation – guaranteed.
MagnaTrack is a cutting-edge patented system that uses specially-designed magnets internally secured within the tracks to allow free-floating during deployment, as well as keeping constant tension on the screen. This innovative system reduces installation time, as well as eliminates 98% of all common service issues and callback requests. MagnaTrack is only available through Progressive Screens and authorized dealers across the country, such as Performance AV in Marietta, and Atlanta, Georgia.
Styles to Match Your Home
Progressive Screens offers solutions for patios, garages, windows, lanais, gazebos, picture windows, outside eating areas, carports, entryways, and more (even Penthouse Suites). Progressive offer both residential and commercial applications to enhance your outdoor lifestyle.
Progressive Screens offer an array of colors and fabrics allowing you to choose the best materials to blend in with your space.  There are (6) standard material colors available; white, bronze, beige, ivory, silver pearl, and night sky black but your color choices don't end there. Progressive Screens offer a Special Order Program for custom color matching providing you with hundreds of available colors.
Durability to Withstand the Outdoors
Progressive Screens feature extruded aluminum housings, tracks, and weight bar for durability along with stainless steel fasteners to protect against rust and corrosion. Progressive uses a weight bar 3 times heavier than the competition to ensure smooth operation.
Added Safety with Obstacle Detection Motors
Progressive Screens has partnered with Gaposa (Italian) motor option for the only triple-try obstacle detection. Combined with the MagnaTrack using Gaposa motors makes your motorized system issue-free, user-friendly, and the #1 motorized screen system available. They offer unmatched performance and are designed to enhance your outdoor living area.
Progressive Screens Quality and Service
Progressive prides itself on fast and accurate shipments. Most orders will be produced and shipped within 2-3 weeks. Every shipment is inspected at each step of production. A final quality control inspection ensures that only the finest quality product is shipped.
Progressive Screens manufactures the leading motorized screens for both residential and commercial applications. Their systems can span up to 30′ wide and 24′ tall. Progressive's motorized screens accent the beauty of your home or business, without losing aesthetic appeal. See behind the scenes at Progressive Screens here.
Interested in Progressive Screens for your outdoor space?
Click Here