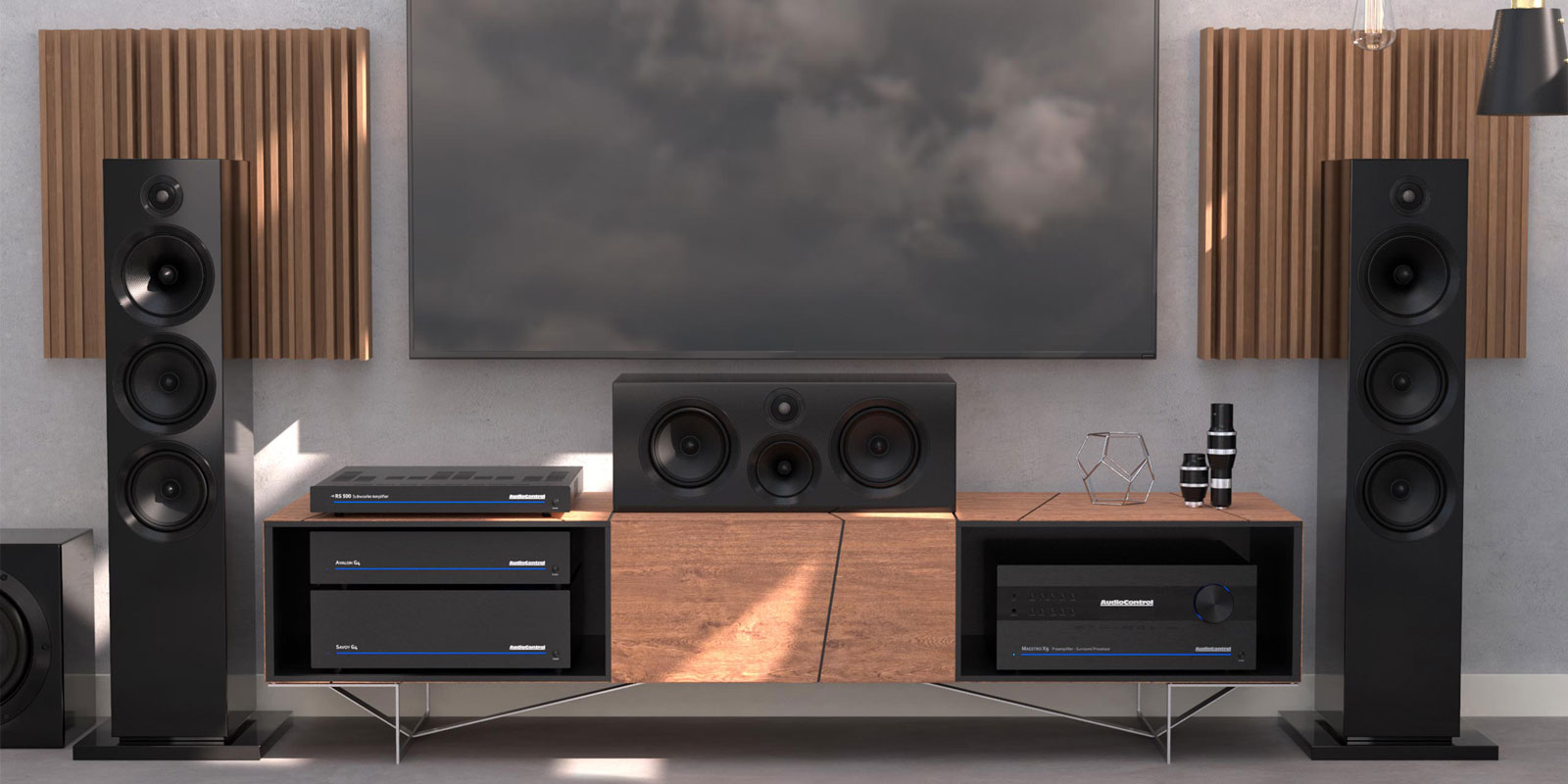 AudioControl is a leading designer and manufacturer of innovative high-performance audio solutions for residential, commercial, and automotive markets since 1977. AudioControl offers premium quality home theater and whole-house entertainment products, distributed audio amplifiers for commercial applications, and a legacy of outstanding car audio processors, amplifiers, and OEM interface solutions sold and installed worldwide by qualified professionals. Audio Control makes audio equipment for people who love amazing sound, no matter if that love is new or longstanding. Audio Control believes passionately that great sound can elevate your mood, induce happiness and leave you smiling without even knowing why; it can make you feel alive and appreciate each and every moment.
PAV's Favorites from AudioControl's Extensive Lineup of Surround Sound Products:
Concert XR-8s – 8K UHD 9.1.6 Immersive AV Receiver
AudioControl's high-performance AV receivers enable home theater specialists and integrators to create systems that deliver new levels of precision, power, and control. The Concert XR-8S supports the most sought-after immersive surround formats, such as Dolby Atmos, Auro-3D, DTS:X, and IMAX Enhanced, with 16 channels of unbalanced outputs including four user-configurable outputs. The Concert XR-8S offers a full complement of inputs for connection to the latest audio/video components.
The Concert XR-8S houses the very latest in audio and video processing technology, featuring Dirac Live® room correction to overcome acoustic anomalies in any space, and ESS SABRE PRO DACs that ensure unprecedented levels of detail and clarity along with earth-shaking, authoritative bass response. Seven amplified channels deliver 120 watts per channel at 8 ohms and 200 watts per channel at 4 ohms.
Enthusiasts will enjoy intuitive app-based control, Google Chromecast, Apple AirPlay 2, Roon Ready, Bluetooth with aptXHD support, Wi-Fi streaming connectivity options, and integrated web-based configuration.
All of this outstanding technology has been wrapped quite elegantly within a beautifully designed chassis, distinguishing AudioControl's Immersive AV Receiver lineup from any other solution.
Avalon G4 – 4 Channel Power Amplifier
Using the award-winning Savoy G3 amplifier as a basis, the AudioControl Avalon G4 delivers exceptional detail and clarity thanks to an innovative and highly efficient Class H design that effortlessly achieves 230 watts per channel, all channels driven. The Class H design topology provides superb audio quality and bullet-proof reliability while reducing heat dissipation from a compact form factor. The Avalon G4 also features AudioControl's LightDrive™ anti-clipping protection circuit, which protects loudspeakers from clipping and distortion even in extreme conditions such as a highly dynamic action movie soundtrack.
The Avalon G4 can be easily configured as a 4-channel amplifier, a powerful 2-channel amplifier, or a 2.1 solution without any need for DSP management. Each pair of channels features hi/lo/bypass crossover controls, balanced (XLR) and unbalanced (RCA) inputs as well as RCA throughputs to achieve multiple configuration options. The Avalon G4 also features independent channel level controls, remote power control triggers, and audiophile-grade 5-way binding posts.
The Made in USA Avalon G4 has been designed as a perfect match to AudioControl's home theater processors and is ideally suited for immersive surround formats or as a premium standalone power amplifier for nearly any home audio system. Don't take our word for it, check out this article by widescreen review on Audio Controls Avalon G4.
Thank you for taking the time to learn more about Performance Audio and Video and the brands and services that we offer. At PAV, we are committed to combining Technology, Vision, and Experience to enhance and simplify Clients' lives. If you are interested in learning more about our unique approach, please contact us today.